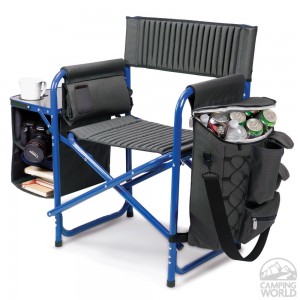 Last night I went to Griffith Park Free Shakespeare Festival's "Taming Of The Shrew" performed by the Independent Shakespeare Co. (which was excellent) with two friends. Lucky for me these friends happen to be Professional Picnic People.  If it were up to me I'd be sitting on grass and dead bees with a bag of TJ's chips and pre-packaged guacamole.  But these were Professionals.  They brought a SPREAD: deli sandwiches, cucumber and bean salad, fresh cookies, a Bed, Bath & Beyond ground cover (that folds into a pillow!), and, most importantly…THE CHAIRS.  Cozy Outdoors Chairs…PORTABLE!  You think Shakespeare In The Park is all about the Shakespeare? You think concerts on the Santa Monica Pier are about music?  You think Summer is about Outdoors?  THINK AGAIN.  It's all an uncomfortable awkward affair without The Cool Chair.
I do not have a cool chair.   So, my butt froze on the cold hard ground until my friend let me use hers for half the show and guess what?….Holy, shit, my life changed.   You want a good life? Forget about a husband, promotion, or daily gelato or frozen yogurt intake with no consequences to your thighs… GET A COOL CHAIR TO SIT ON AT OUTDOOR EVENTS AND YOUR LIFE WILL ROCK.
My friend is buying a chair with a heater for next summer.  She is BAD ASS.
Does my affinity for chairs mean I'm old?  YES.
Comments
comments